Chicago + Youtube
Hey there friends!
So many things happened in 2016 that I feel like I needed all of January just to wrap my mind around the swirling vortex of emotional and transitional nonsense. Obviously in the grander scheme of the world, but also in my own personal life. I got engaged and married last year, lost my Grandfather unexpectedly, moved three times, spent 6 weeks in the UK, and started a whole new season of life in Chicago. Here we have a quick mini-update and foreshadowing of the events that are hopefully to come-if I have any say in the matter.
Lately I have been scheming and planning some big ideas for 2017. I've got a pretty terrible track record of blogging, but I do plan to update my site with some new news and get more content up on the internet for those of you who are interested. My new art project is still formulating in my brain but I'm hoping to do things in twelves over the course of this year. Twelve large canvases, twelve songs, twelve chapters in a sci-fi book project, and of course twelve slices of cheesecake to reward myself for a hard year's work (that last one is probably too ambitious, I do want to make it to 2018 after all).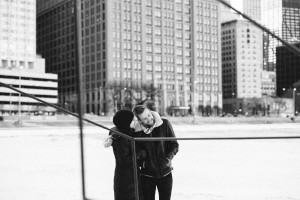 My other big news is that I'm planning on uploading some YouTube videos and seeing if people respond positively to that. I'm thinkiiing entertainment/comedic/artsy/vlogging/lifestyle/random. Basically the things I love in video form. I'm not an editor, so there will definitely be a learning curve along the way, but please bear with me and feel free to give me your tips so I can learn fast!
Chicago is amazing and freezing and busy. Some of my favorite things are the Harold Washington Library, the Art Institute, incredible murals made by talented artists, and the hilarious things that happen on CTA. Every day is accompanied by the unexpected. Being married to Shane is amazing in all the ways a first year of marriage is amazing! All of our good days and bad we share together and it's been incredible to have a built-in best friend for every activity. We have way too much fun.
I know there's a lot more to catch everyone up on, so I'm going to try to update more regularly. Keep an eye out for my first video next week!
Thanks, love to all!
Emma xx